March 3, 2011 6:01 pm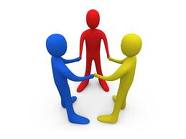 Having strong communication skills means more than just knowing how to talk. If you want to develop your communication skills, you will need tools and resources to help you through the process. Developing communication skills also requires practice, just as any other skill would. Fortunately, many tools exist to help you develop, practice and perfect the art of communication.
Role-Playing Activities
Role-playing activities can help people develop and strengthen their communication skills. For example, role-playing is an effective activity to help you learn the importance of making eye contact or using other nonverbal communication skills during a conversation. During a role-playing activity, you can experience the effect of your conversation partner making direct eye contact rather than looking down at the floor.
Body Language
Body language is a nonverbal communication skill. Much of what a person is communicating comes from his body language. This body language includes your posture, how you use our hands and arms during a conversation and whether you make eye contact.When having a conversation , try to visualize yourself from the other person's point of view. Do you stand in a defensive position with arms crossed over your chest? If so, this may imply that you are being defensive even if your words state otherwise. Do you shove your hands in your pockets when speaking, implying that you have something to hide, or do you stand in a relaxed manner with your arms at your sides?


Practice

The best way to develop and perfect communication skills is to practice them. Have a variety of conversations with others and ask for feedback. Ask colleagues or teachers to critique your email communications. Look for nonverbal cues from others when you are having one-on-one conversations. Do they show interest by maintaining eye contact and engaging in dialogue, or do they look at their watches often and try to rush away?
Reading
Read a variety of books to help you develop communication skills. Reading helps to expand your vocabulary and can widen the scope of your conversations by giving you topics to discuss with others.
Online Training
Increase your communication skills by learning how to communicate virtually. Posting status updates on sites like Twitter can enhance your communication skills. You have 140 characters through which you can update your status or post an interesting topic. It's not easy to fit content into 140 characters; therefore, practicing doing so helps develop communication skills.