TweetDeck's development path might look more like a roller coaster than the typical incline, but it's for good reason. After Twitter bought the app in 2011, TweetDeck pulled support for various social networks — most recently Facebook — and dropped its mobile apps in order to focus on its core purpose in desktop form: Twitter.Social media managers and casual tweeters alike can benefit from TweetDeck's organizational tools, such as customizable columns, multiple account toggling and scheduling. With a modern, clean design and automatically refreshing feeds, TweetDeck's utility comes in its simplicity and ease in setting up.

Here's how to get started on TweetDeck. Soon your personal and professional Twitter troubles will be long gone.
Setting Up
Instead of connecting via Twitter.com, you'll need to download the app and create a separate TweetDeck account. You'll be able to connect Twitter accounts from there.
Then, decide if the Chrome web app or the Windows or Mac desktop apps suit your style.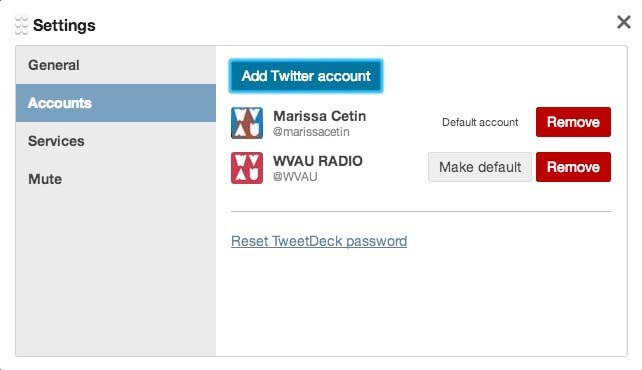 Connect as many Twitter accounts as you'd like through Settings, located in the left sidebar. However, make sure you're aware of which account you set as your default to avoid accidentally brunch tweeting from your company's official account.
If you hate scrolling up your feed for the latest tweets, TweetDeck can do that for you. For an automatically updating feed, make sure to check the "Stream tweets in real time" setting under the General section.
Also in Settings, you can make TweetDeck even more easy on the eyes with appearance options: light and dark color schemes; larger or smaller font sizes; and wider or thinner columns.
Customizing Columns
TweetDeck's columns are key to getting what you want out of Twitter. Need to follow an event? There's a column for that. Use your DM inbox like a second iMessage account? There's a column for that.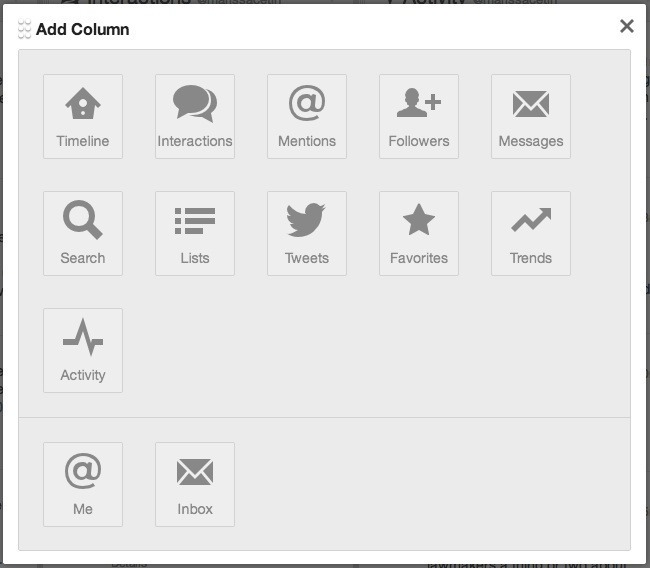 Add separate feeds for your timeline, interactions, activity, scheduled tweets, messages, etc. through the "Add Column" button in the left sidebar. Once you've clicked on the type of column, select which account you'd like to see, and your column is ready.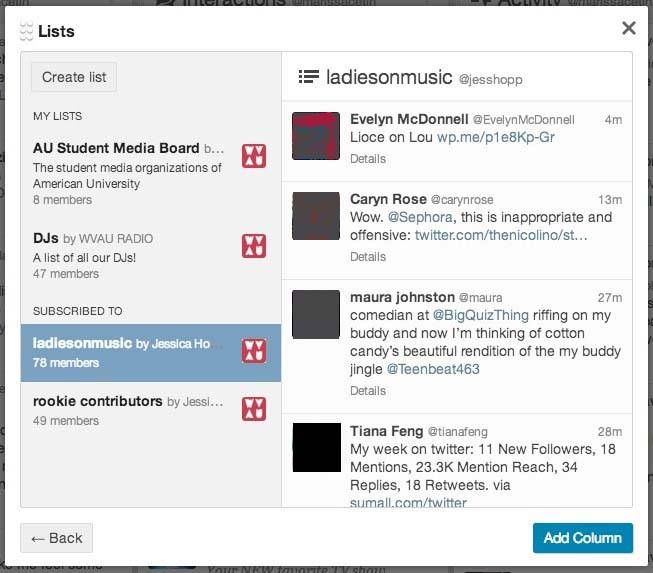 Twitter is more than a timeline of users you follow. TweetDeck's columns make sense of Twitter's lists that have perplexed so many for so long. Out of sight, out of mind on Twitter.com, TweetDeck can pull lists you're on or subscribed to into their own columns, placed right next to your regular information feeds. Curate lists around your interests, office, events or things that generally get hidden on your main feed.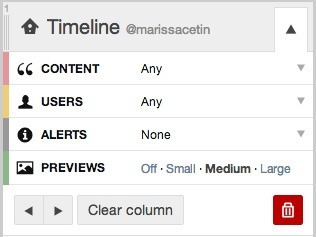 The arrow at the right of a column's header opens up column filtering options to maximize the quality of information. For example, narrowing a column or search (via the left sidebar) down to links and media-only tweets from verified users — parameters which may prove helpful during breaking news.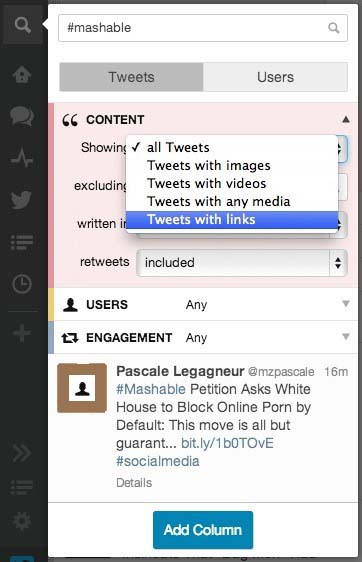 The search function also comes in handy during Twitter chats or other instances when you're closely following a hashtag, such as during conferences, TV shows and even weddings.
If you've tried any TweetDeck competitors, you will notice that TweetDeck is missing HootSuite'sstreams and tabs, which make it easy to separate multiple accounts. But with TweetDeck's easy and quick scrolling, switching between streams and creating columns make up for it.
Did you notice that the columns have tiny numbers in the top left of the header bar? Type those numbers to hop from column to column sans scrolling.
Tweeting and Scheduling
While column layout is important, there would be no point to an excellently curated layout if you couldn't jump in on the conversations you so cleanly organized.
TweetDeck's tweeting experience is as neatly and easily modified as its columns.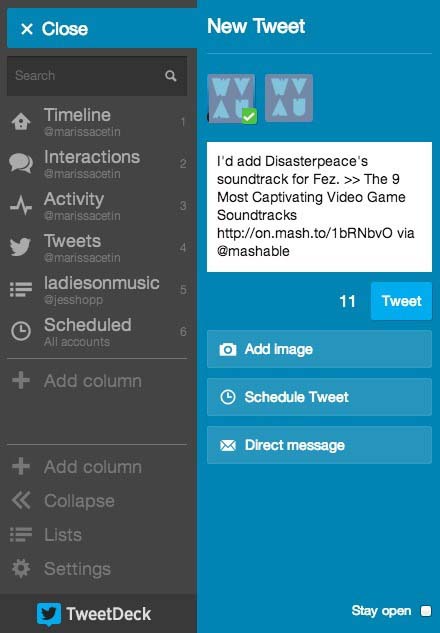 In the recently updated left sidebar, you can preview added images, get auto-fill suggestions for hashtags and handles, and automatically shorten links, no Bitly required.
Replying to tweets is simple, and will open up a box within the column you're in. If you'd like to reply to multiple users, even if they're not in the same conversation, click the reply arrow on the separate tweets and the handles will appear in the original compose field you have opened.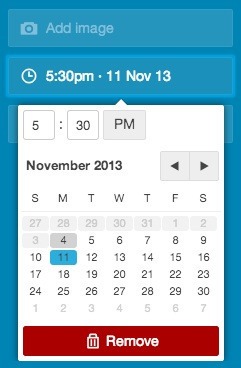 The scheduling field has a quick calendar view with timestamps, streamlining tweeting for the busy social media manager or normal user who wants to tweet jokes at more convenient times.
TweetDeck is a no-fuss web and desktop Twitter client, and it will make any tweeter's experience easier and more organized, for work and play.